This page gives you useful information and support tools from other organisations to help you get ready for the registration assessment.
IFPP
 (Interim Foundation 
Pharmacist Programme)
The Interim Foundation Pharmacist Programme (IFPP) from Health Education England is designed to provide you with the support you need to make the transition from pre-registration trainee, through provisional registration, to becoming a fully registered foundation pharmacist and beyond.  
All provisionally registered pharmacists are encouraged to register with the IFPP irrespective of their employment status or the sector the practice.  Provisional pharmacist registration is a unique situation brought about by the COVID-19 pandemic. The IFPP is designed to provide you with support, direction, information and resources to help you to bridge the transition from pre-registration training to independent practice.  
If you are currently awaiting employment or are waiting to re-sit the GPhC registration assessment and are not eligible to become a provisionally registered pharmacist, you can still register with the IFPP to access some elements of the programme.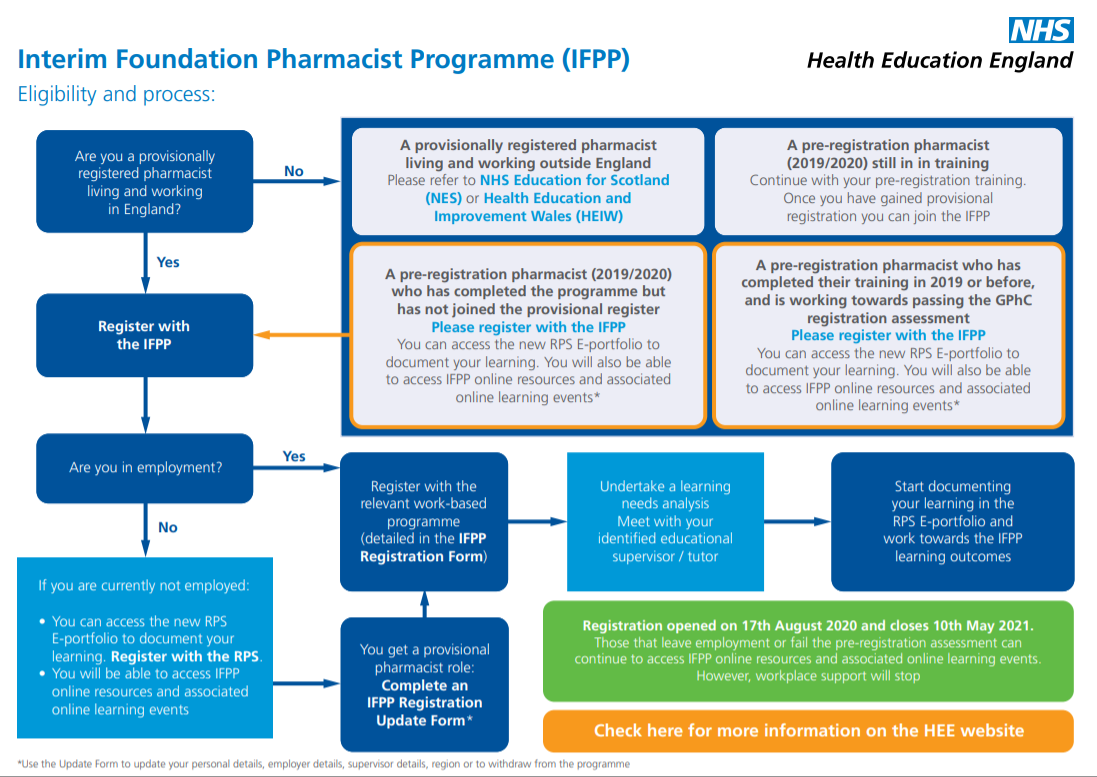 The IFPP gives provisionally registered pharmacists access to a range of resources, regardless of whether you are in employment or not. 
Start with the Exam Game Plan and 'Getting Exam Ready' videos - to help you focus your revision and calm down your nerves. Access is via the Learning Hub: log in and type 'IFPP' in the search bar. The IFPP gives provisional registrants access to a range of resources, regardless of whether you are in employment or not. Once logged in, search for 'IFPP'. 
You will need to register with the Learning Hub to access the IFPP resources. Register with an NHS email address or an OpenAthens account. Instructions on how to obtain an OpenAthens account can be found in Appendix 1 of the IFPP Learning Opportunities guide. 
Another useful resource on the Learning Hub is the IFPP Revision Resources for the GPhC Registration Assessment. This is a handy signpost guide to resources for the assessment.  
PDA
The Pharmacist Defence Association is a not for profit organisation which supports the needs of individual pharmacists.  The PDA offers free membership to trainee pharmacists, this includes legal defence insurance, professional indemnity insurance and trade union membership.  They are currently offering the following information and resources: 
The PDA invites members who are eligible to sit the GPHC assessment to sign up for this new free programme of support which includes assessment questions, mock exams and revision tips.  
Their support for provisionally registered pharmacist members includes offering information, advice and guidance on issues including processes relating to the assessment e.g. withdrawal and issues with employers relating to accessing time off to study or sit exams.  They also offer support through their advocacy, they are in regular contact with the GPhC raising issues and concerns that members talk to them about through their Prov Reps and networks. 
To find out more about becoming a PDA member please visit their website. 
RPS
If you are a member of the RPS (free for provisionally registered pharmacists) you can find many resources to help you prepare for the assessment on their website. 
Additionally, the RPS Provisional Registration Support Line has been funded by Health Education England to help provisionally registered pharmacists with any questions/issues they may have. The line is open Mon-Fri, 9am -5pm. Call: 0207 572 2737 or email ProvReg@rpharms.com 
CPPE
 (Centre for
 Pharmacy Postgraduate Education)
CPPE is a provider of educational solutions for the NHS pharmacy workforce across England. Their pages aimed at trainee  pharmacists take you through to the exam and link to their foundation pages to encourage people to think about their next step. 
CPPE have also launched the Clinical calculations for pharmacy professionals e-assessment.  The assessment links to Clinical calculations for pharmacy professionals e-learning and is a valuable resource too support your preparation for the GPhC registration assessment. 
CPPE TIP
"Think about the patient as you work through things, sometimes if can be easy to get trapped in revising the BNF, rather than thinking about what the person taking the medicine needs and the reality of practice. The assessment is trying to check that people can apply their knowledge and that is different to remembering the knowledge."
Pharmacy Schools Council
The Pharmacy Schools Council is keen to support provisionally registered pharmacists preparing to sit the GPhC registration assessment in early 2021. Schools of Pharmacy have developed a series of online revision events on topics relevant to the GPhC revision assessment. Click here to access recordings of some events.