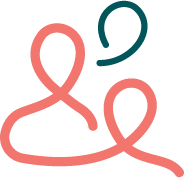 Our Counselling and Peer Support service is for those seeking a safe, confidential place to talk about professional or emotional issues or worries.
Pharmacist Support has a range of support available to help manage your wellbeing. There are proactive wellbeing resources available via our fact sheets and through our Wardley Wellbeing Hub.  
If you feel you need more emotional support, you can find information about the services we offer, alongside other support you may be able to access, below. Our services are free and confidential and open to our pharmacy family which includes pharmacists, trainees and Mpharm students. Click here to find out more about our eligibility.
Counselling (for pyschological and emotional support)
Thanks to a grant from the Covid-19 Healthcare Support Appeal (CHSA) we are now able to provide direct psychological support for those who are experiencing mental health issues. We are able to fund six counselling sessions through a new counselling partnership. 
The counsellors are there to help you deal with a variety of issues. By seeking constructive help, you may identify ways of addressing the root causes of your concerns in order to help you to cope. 
Please click here for more information and to apply for counselling.
Listening Friends (for peer support)
Our Listening Friends service offers you the choice of speaking in confidence and anonymously to one of our trained volunteer pharmacists. The peer support provides you with an opportunity to talk about the stresses or pressures working in or studying pharmacy may be causing you. Our volunteers do not provide advice, but they recognise the pressures of pharmacy practice and will offer you the time and space to talk through those issues to try to find clarity. They can also sign post you to other organisations who can provide further specialised help and support. 
Please click here for more information and to arrange a Listening Friends call.
Other support available
You may be able to access emotional support through other avenues for example your employer, university or through the NHS. Please click here to find out what other support may be available for you. If you need help in other areas such as financial or addiction support, please take a look at our other Support Services or contact our Information & Enquiries team. 
Urgent help
Please note this is not an emergency service. If you have seriously harmed yourself – call 999 for an ambulance or go straight to A&E. If you are suffering a mental health emergency you can get help via A&E or by contacting your GP for an emergency appointment. If you are feeling suicidal, contact emergency services or a helpline immediately listed here on the NHS website. 
Any personal information you provide to the charity when applying for our services will be held securely by us and our trusted service providers. Please click here to see our full Privacy Policy.