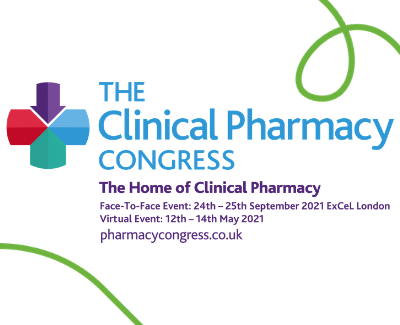 We're very pleased to announce that Pharmacist Support is the nominated charity at this year's CPC Live virtual event. We'll be joining those across the profession in May for a three-day virtual conference to talk about pharmacy wellbeing and how we can support you, our pharmacy family, to prioritise and manage your wellbeing. We'll also be sharing how we've listened to your feedback to our recent surveys and our plans for the upcoming year.
As we wrote about earlier this year, a key focus of the charity is to establish and develop relationships with like-minded organisations across the sector to raise the importance of looking after our pharmacy family. We're delighted to be working with our friends at the Clinical Pharmacy Congress to help us to reach this goal.
Laura Shapiro, Group Event Director, Clinical Pharmacy Congress says of the partnership:
"The Clinical Pharmacy Show is delighted to be working with Pharmacist Support as our nominated Charity. Mental Health and Wellbeing is a matter close to our hearts and more important than ever during these unprecedented times. Partnering with Pharmacist Support means working with a charity that provides invaluable help and support to the sector and we are grateful for everything they do. We are excited to raise awareness and funds to support Pharmacist Support and share their incredible work. If you would like to join us on this journey and be a part, secure a free pass to our virtual event this 12-14 May, 2021."
CPC Live will consist of a series of live and pre-recorded talks, round tables, panel discussions, product demos covering technology, leadership, policy, strategy as well as explore the latest clinical updates which will address some of the key challenges and opportunities that have emerged during and post the Covid-19 crisis. For the second year running, CPC is waiving the fee to attend the event and is encouraging all attendees to make a donation to us, the profession's charity, in lieu of purchasing a ticket if you are able to do so.
Whatever your plans are for May, we hope they'll involve joining us for the CPC Live virtual event – get your ticket here!