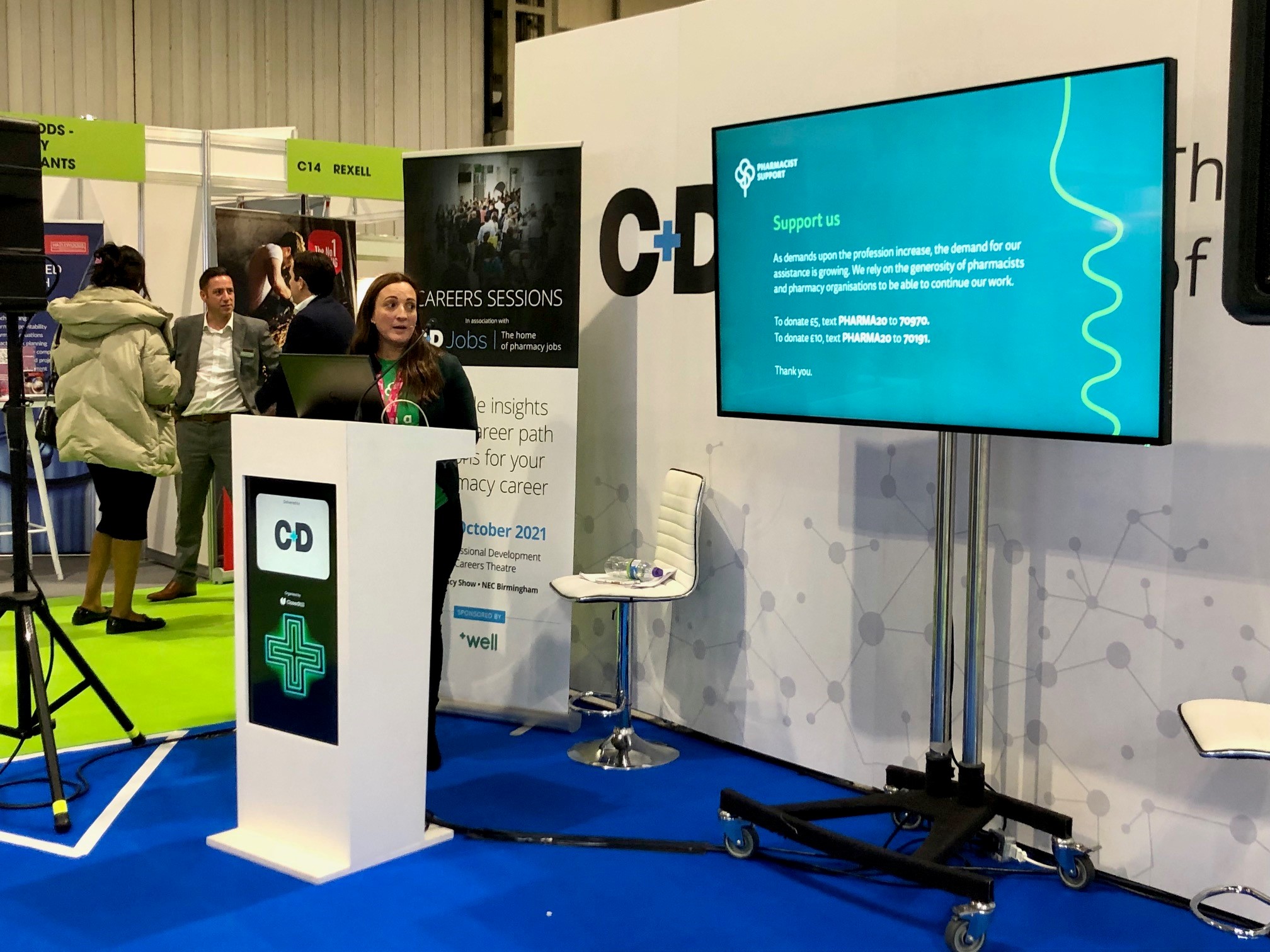 See you in October at the Pharmacy Show!
Read all about our continued partnership with the Pharmacy Show, and where to find us at the event in October.
We're pleased to announce our continued partnership with the Pharmacy Show.
We've been working with the team at CloserStill Media for some years with the joint aim to underline the importance of looking after our pharmacy family.  
The timing of this year's show coincides with our Pharmacist ACTNow wellbeing campaign. This year, ACTNow looks to tackle some of the issues highlighted through our research around workplace wellbeing and stigma. By subscribing to the campaign, you can access free support and guidance tailored for the whole pharmacy team.
Across the two days of the Pharmacy Show, you'll find us in various theatres discussing mental health and wellbeing in pharmacy. We'll also be at our stand where you'll be able to grab yourself a whole host of information about the campaign, our charitable services, and the latest wellbeing pack.   
Where you'll find us
Our stand: you'll find us at our charity stand H33 in the exhibition centre.  
Theatres sessions:  
Wellbeing in Pharmacy – What will it take to reverse the trend of burnout?  
Professional Development & Careers Theatre on Sunday 16th October at 10.25 – 10.55 
For better or worse: The impact of social media on pharmacy professionals  
Technology Theatre on Sunday 16th October at 16.05-16.35 
The importance of partnerships for the charity
Our Chief Executive, Danielle Hunt, says of the continued partnership: 
"We're delighted to continue our valuable partnership with the Pharmacy Show and once again, be the nominated charity at their event in October. Their commitment to supporting the charity is crucial to ensuring individuals and organisations across the profession are aware of Pharmacist Support and the independent support services we offer. We very much value the relationship we have built with the Pharmacy Show over the past few years, and we're looking forward to building upon our joint work throughout the next 12 months." 
Garry Tyson, Event Director at the Pharmacy Show says: 
"The Pharmacy Show is excited to continue the partnership with Pharmacist Support. Mental health and wellbeing is a matter close to our hearts and working with the charity is important to us. We are grateful for what Pharmacist Support is doing for the sector and the invaluable support they are giving to all pharmacy professionals. Join us on this journey and make sure to secure your pass for The Pharmacy Show happening this 16-17 October at NEC, Birmingham." 
We look forward to seeing you all at the Pharmacy Show in Birmingham on 16-17 October. To secure a pass, please visit the Pharmacy Show website.
Find out more about all our partnerships