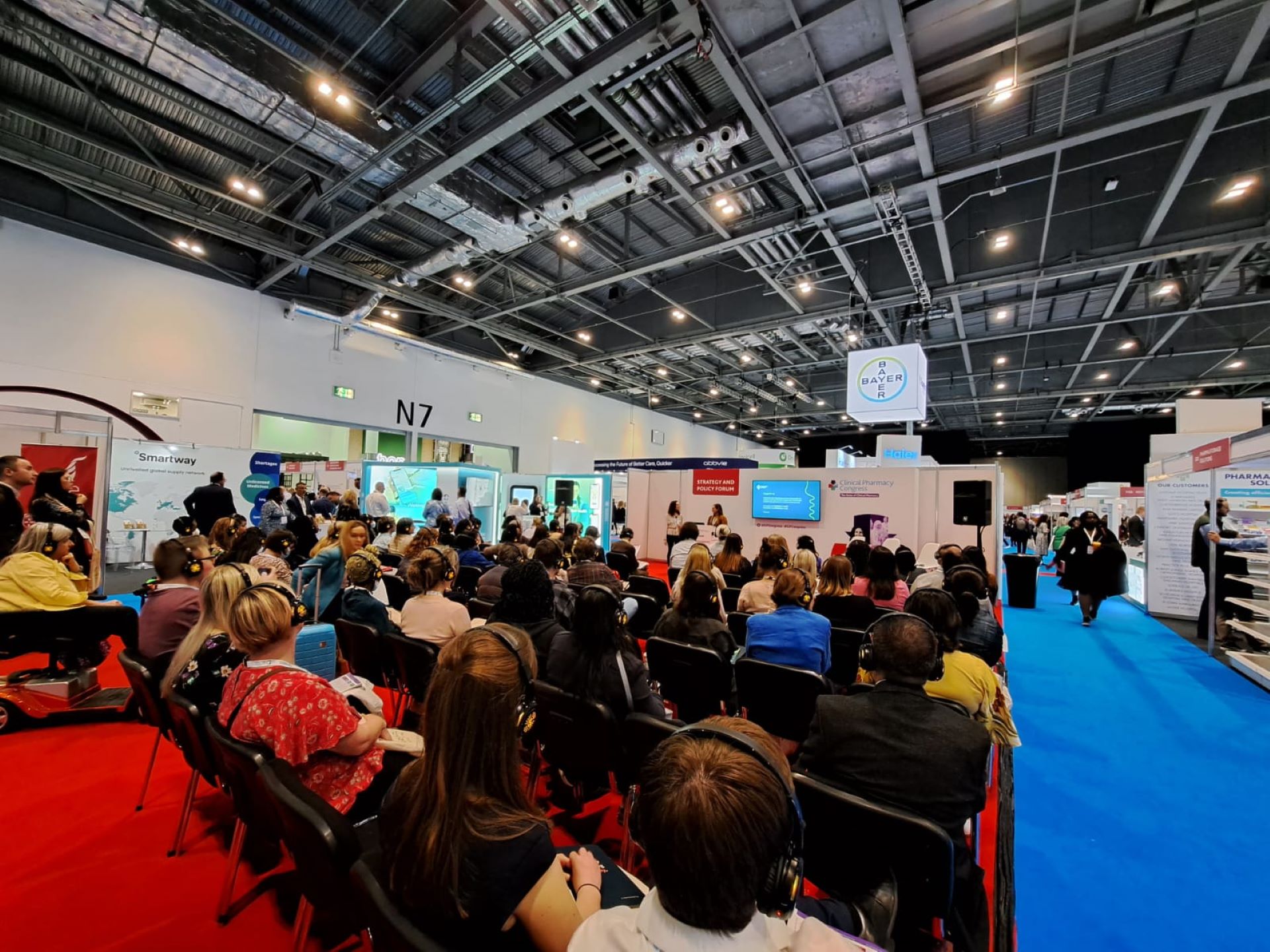 See you at the Clinical Pharmacy Congress in May!
The Clinical Pharmacy Congress is getting behind the charity once again and have chosen Pharmacist Support as their nominated charity for the in-person event in May.
Why we partner with the Clinical Pharmacy Congress
We're pleased to announce our continued partnership with the Clinical Pharmacy Congress. For the third year running, the team at CPC has chosen us to be their nominated charity, recognising the importance of championing the profession's charity and helping us to raise awareness of how we support our pharmacy family.  
The CPC supports our work by offering us space and time within the congress to raise awareness of our free and confidential support services. The congress also supports our much-needed fundraising drive by contributing £1 per every ticket sold to the charity and encouraging event attendees to donate too. We're very grateful for this opportunity to raise much-needed funds. Like most charities across the country, we've experienced continued difficulties fundraising due to the pandemic and cost-of-living crisis. All funds raised go directly towards supporting our pharmacy family through our vital support services.  
Danielle Hunt, our Chief Executive, says of the partnership: "We're delighted to resume our valuable partnership with the Clinical Pharmacy Congress who share a joint aim of supporting our pharmacy family. Their ongoing commitment to championing our work is crucial to ensuring that individuals and organisations across the profession are aware of Pharmacist Support and the free and independent support services we offer." 
How we can support you at this year's congress
Chat to us at our stand
At this year's Clinical Pharmacy Congress in May, you'll find us at stand D1 in the exhibition hall. Please come along and chat to us about how we can support you and your pharmacy team's wellbeing. You'll be able to learn about our latest charity activity, such as our Addiction Peer Support helpline and our upcoming mental health and wellbeing training for leaders.
Come along to our talk on building resilience and a growth mindset
In addition, you can join us for a session on 'Building resilience and a growth mindset in your pharmacy team' in the Strategy and Policy Theatre at 11.30 on Friday 12th May. In this session, Danielle Hunt (our Chief Executive) and Melissa Cochrane (our Wellbeing Development Manager) look at how workplace culture impacts growth mindset and resilience within pharmacy teams, and what can be done to support the team with their mental health and wellbeing.  
Find out about the support available to you and your pharmacy team
Join us, APTUK and CPPE as we discuss the many ways our organisations can ensure you and your whole pharmacy team access the support you deserve in your workplace. This session will take place in the Clinical Pharmaceuticals and Pharmacy Technicians theatre at 14.15 on Friday 12th May.
We look forward to seeing you there! 
 Find out more about our partnership and how to attend the congress
Are you interested in partnering with the profession's charity?
As the profession's charity, we recognise that collaboration across the sector is key to supporting our pharmacy family to ensure it is well-equipped to face any challenges people may have.
Find out more here