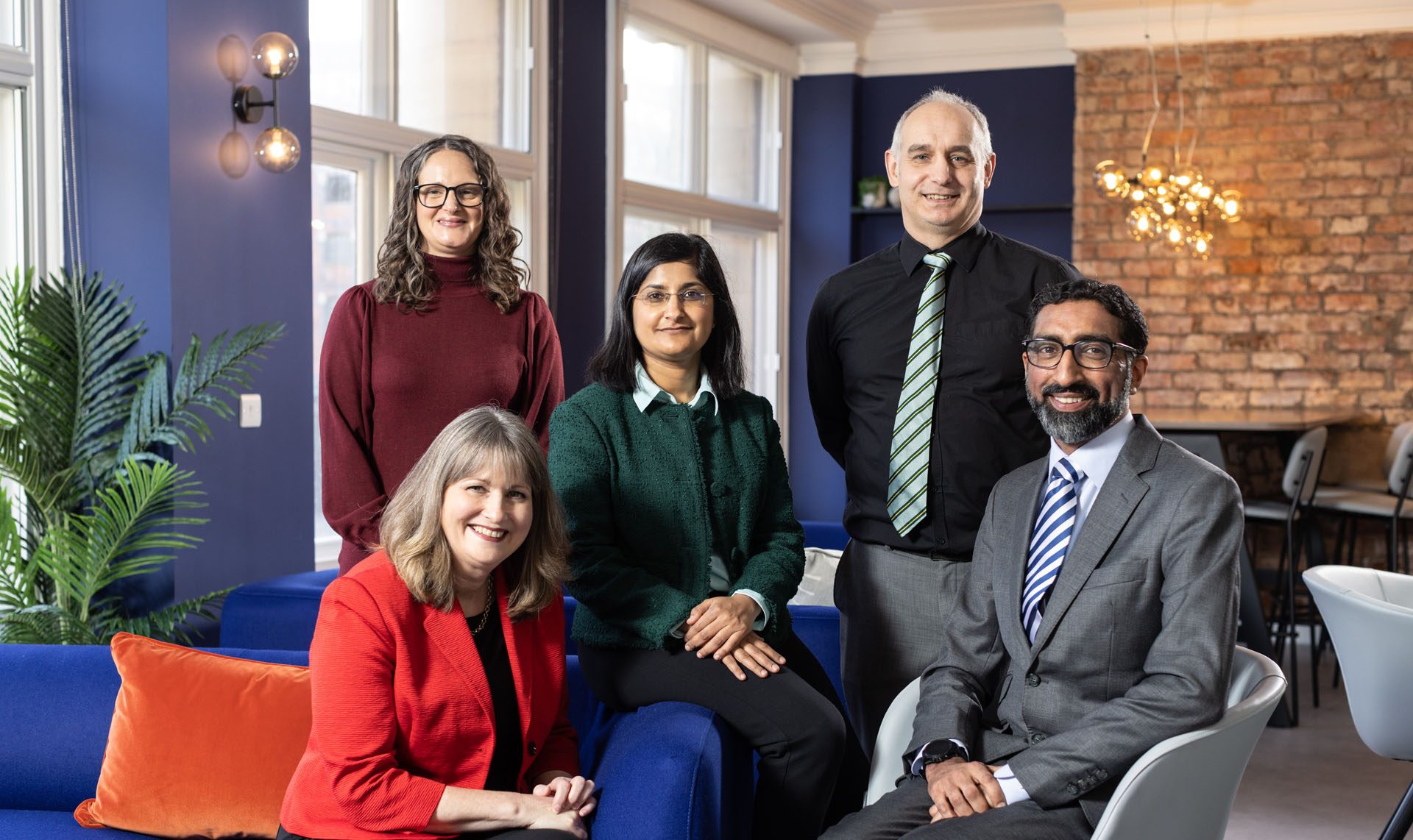 Charity recruits five new Trustees
Pharmacist Support is delighted to welcome five new Trustees to its board - David Downham, Karen Harrowing, Mohammed Hussain, Mala Khiroya, and Alison Scowcroft.
2022 marks the start of a three-year term for the new recruits who join existing Board members Anita Cawley, Catherine Harper, Paul Johnson, Steve Lutener, Esther Sadler-Williams, Mark Sweeney and Sarah Willis. The start dates of the new recruits will be staggered across the year to accommodate the departure of Steve Lutener who completes his final term in May.
Karen, David and Mohammed begin their 3-year term in January 2022, with Alison and Mala joining the board in June.
As the profession's charity, Pharmacist Support relies heavily on a dedicated team of volunteers to support its work. At the beginning of 2021, we announced plans to enhance our volunteer schemes to ensure that they reflected the diverse experiences, backgrounds and needs of all in our pharmacy family. Part of this plan included the recruitment of several new volunteer trustee board members.
"Since the launch of the charity's new strategy in January 2020, the profession has been faced with many new challenges. We are really proud of the work we have done in the last few years to address some of these challenges, that have led to a number of new developments for the charity, including the launch of our new counselling offer and Wellbeing Learning Platform, the expansion of our ACTNow wellbeing campaign and development of our new website" commented Chief Executive Danielle Hunt.
"However, we still have lots of work to do, especially with the continued high levels of stress and potential burnout present within pharmacy. We are really pleased that the five new trustees bring with them a plethora of experience and skills that will further support us in the next phase of our journey."
Meet our new Trustees
A graduate of Cambridge University, David qualified as a Chartered Accountant in the Business Assurance division of Coopers & Lybrand. After managing a wide assortment of audit clients in varying industries from textiles to manufacturing to retail, David joined an online pharmacy as Head of Finance. After a brief time as Financial Director of an Executive Recruitment firm and an online resourcing business, he returned to pharmacy as Head of Finance for a small chain of community pharmacies in Yorkshire, from which his own business ET Downham was spun out. ET Downham now offers financial support and accountancy services to a range of clients in and around the sector.
Karen has 40 years' worth of experience in public, private and voluntary healthcare settings. During this time she has been involved in national committees and boards focused on improving safety in healthcare through regulation and standards. Her portfolio now includes independent advisory roles on regulation, quality governance and safety, an Associate and Partner role at the GPhC, Honorary member of APTUK and a Fellow of the RPS, where she continues to support on the MEP panel and other advisory groups.
Mohammed has worked at senior level in a portfolio career spanning national regulation, education, national health care technology and service redesign. He is the Senior Clinical Lead for Live Services at NHS Digital, leading a clinical team that supports NHS Digital's Live services across England. Mohammed has served on a number of Boards and is currently a Non- Executive Director at Bradford NHS Teaching Hospitals Trust and Chair of the Quality Academy. He is a Fellow of both the Royal Pharmaceutical Society and the Association of Pharmacy Technicians UK and a Founding Fellow of the Faculty of Clinical Informatics. Mohammed remains a practising pharmacist and is an elected Independent member of his LPC and is passionate about health technology, championing diversity and delivering excellent clinical care.
Mala has worked as a pharmacist for over 15 years in various community and hospital pharmacy roles. She is currently Managing Director and Superintendent Pharmacist of the outpatient pharmacies within Leicester Hospitals where she aims to ensure patients receive high quality, safe and effective care, and ensure the health and wellbeing of colleagues. Mala has successfully completed the Mary Seacole Leadership programme and in 2015 was selected as a finalist in the region for the Royal Pharmaceutical Society's I love my Pharmacist award.
Alison is a community pharmacist with 20 years' experience in front line pharmacy, head office, business development and LPC roles. She worked for Co-op and then Well pharmacy for 17 years, eventually moving into a variety of head office roles. In her current position as Director of Strategic Programmes at the not-for-profit Greater Manchester community pharmacy provider company CHL, Alison leads the organisation's strategic and business planning, operating framework and stakeholder engagement & management. From 2004 she was a committee member (and from 2008 Chair) of Oldham, Tameside, and Glossop LPC. Alison was also a founding member of the GM association of LPCs (CPGM) prior to LPCs formally merging in 2016.
Meet our new Chair
In addition to the new Board recruits we are also delighted to welcome a new face to the position of Chair. Taking over the role in January 2022 from Steve Lutener is Esther Sadler-Williams, who, with over 35 years' experience in a variety of pharmaceutical roles (spanning retail, hospital and industry), brings with her insight into the many sectors of pharmacy along with strong strategic business skills. Esther will be joined by Anita Cawley, who remains in the post of Vice Chair.
Speaking in her new role as Chair, Esther commented "Despite the challenges thrown at us, I have seen the charity go from strength to strength over the past few years. Steve has played a big part in this transition and on behalf of the Board and staff I would like to thank him for his calm and positive approach and his dedication to our beneficiaries, staff and fellow trustees during this time. I look forward to welcoming our new trustees into the fold and working with them to ensure we continue to champion the wellbeing of our pharmacy family and deliver on our 5 year strategy."