Graham Stretch, Robin Conibere and Helen Kilminster are all pharmacists working in General Practice, who are also all part of the Primary Care Pharmacy Association (PCPA) committee team.  They have developed a close-knit friendship over the past couple of years, bonding as exhausted working parents with an addiction to cheese and a passion for beer!  This tangy cheese lovin' trio have taken on a cycle challenge like no other! Here they tell us about their plans and why they decided to fundraise for the charity.
Why did you decide to become PS Fundraising Heroes?
We chat to each other EVERYDAY and work tirelessly behind the scenes for PCPA.  Then one late night conversation began with an idea of the PCPA doing something for charity.  We have watched and admired all the recent Pharmacist Support activities from some notorious PharmTweeps on social media.  Our profession is really important to each of us and we felt it fitting to raise awareness and donations for Pharmacist Support.  We feel it is an honour to become Pharmacist Support Fundraising Heroes.
What hero fundraising activities have you got planned?

So on 4th May 2018 the three of us will team up on a TRIPLET tandem and cycle 156 miles from the Royal Pharmaceutical Society's HQ in London to Paris!  We have a technical support team that will provide live streaming of our journey.  We have yet to practice on the triplet tandem but we are in training.  Some of us only purchased a bike last summer!
Why is the charity important to you?
The donations that we raise will actually be divided equally between Pharmacist Support and Macmillan Cancer Support.  Pharmacist Support is important to us  because sometimes only people in the same profession truly understand the journey and what it means to be a pharmacy professional.  These are challenging times for all pharmacy professionals across all sectors. Knowing such a charity as Pharmacist Support exists is hugely reassuring.

Macmillan Cancer Support is important to us for very personal reasons.  We have all been individually affected by cancer and have cared personally for our patients. Camaraderie amongst colleagues can help us carry on through our difficult times.
Why do you think others should join the Pharmacist Support Fundraising Hero Team?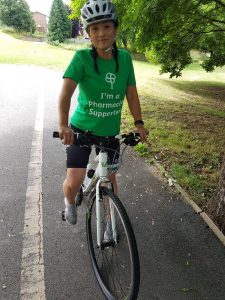 No one ever knows what life will bring and when you might be the one who needs help. Charity begins at home.  Being kind and to love costs nothing and fundraising can be truly rewarding for anyone.  We fail as humans when we stop caring.
You can donate to Graham, Robin and Helen now and help them reach their target.  Visit their Triplet Bike Ride fundraising page and donate today.
Fancy joining them and becoming a PS Fundraising hero? Contact Emma Peate on 0161 441 0317 or emma.peate@pharmacistsupport.org 
In the meantime – check out our Events and Challenges page for inspiration!